Angela, Charles and other Charlotte Web Development readers have been asking in the comments section of my How do you post an image on Craigslist article about inserting a PDF Doc in a Craigslist Ad. It's a simple process. Here are the steps:
How to Insert a PDF Doc in a Craigslist Ad
Step 1: Get your PDF on-line
Similarly to how I describe in the picture on Craigslist post, you will need to own your own PDF. Don't use other people's resources. That will get you in trouble quickly. Also, you will need to upload that PDF somewhere. Any kind of file hosting will do.
Once you have your PDF file uploaded somewhere, all you need to do is put the following code in your Craigslist ad.
Step 2: Link to your PDF in your Craigslist Ad
You can make a link to a PDF on craigslist but actually displaying a PDF on Craigslist is difficult. If you just want to make a link to the pdf, that is simple and very similar to the steps I laid out above. Let's say that the location of your pdf is http://www.charlottewebdevelopment.com/somepdf.pdf
You would put in the following link code replacing the href part with your location – be sure to keep those double quotes! Also, you would put some text to indicate that a user was going to a PDF.
<a href="http://www.charlottewebdevelopment.com/somepdf.pdf">This is a link to my PDF</a>
Does that help? If not, describe exactly what you want to do in the comments section below and I will do my best to help out.
One last word on putting a PDF on Craigslist: Why?
Generally you are trying to exchange information. People will click the link, possibly read your PDF and then go on their way. Why not instead make a simple website with that information and the PDF linked and that way create an asset for your company? After all, you can edit a website much more easily than you can a PDF and a website gives you a great permanent resource to keep all of your contacts in one place.
After all, we all know that the best way to make a business profitable is to keep a list of customers and prospects. A website will help you do that much more easily than a PDF. Websites do not have to be very fancy – especially when you are creating your first one. So many tools exist today to make great looking, professional, and above all else – profitable websites for basically free. If you have questions on how to do that, please let me know in the comments below and I will write up a few articles on that, too!
How to Sell Your Crap Online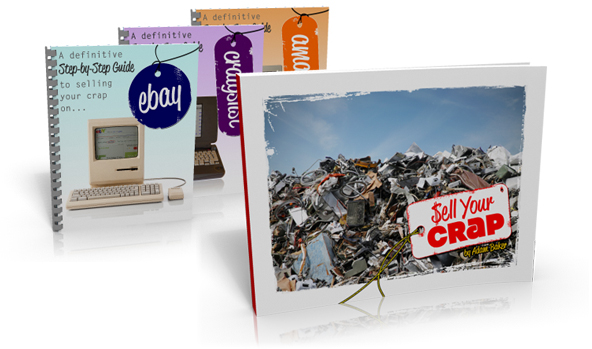 Incidentally, there's another guy out here on the interwebs who thinks helping people out a great business model. Adam Baker from Man vs Debt has an incredible story about taking his wife and small child out of the States and travelling around the world after selling nearly all of his stuff.
While you might not be looking to do something that extreme, he's an interesting person to learn from – especially when it comes to selling your stuff and services on Craigslist, EBay, Amazon, or anywhere, really. If you're so inclined, check out his (paid) guide on selling stuff online. He's got a $100 guarantee on his site. Buy his book and if you don't make $100 by implementing his techniques, he'll refund your purchase.
Not a bad guarantee – you make back multiple times the price of his guide or you pay nothing. And that's even without the tons of great extras he's included from a legion of other interesting people.
I don't often direct visitors to this website to somewhere else on the web, but if you're reading my article on Craigslist, Adam has something that I think can help you out.